Ambassador Mark Dybul, O'Neill Institute Co-Director of the Global Health Law Program and Distinguished Scholar, Appointed Executive Director of the Global Fund for AIDS, Tuberculosis and Malaria
By O'Neill Institute | Leave a Comment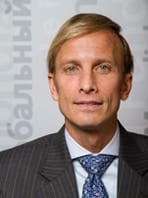 November 15, 2012 – The O'Neill Institute for National and Global Health Law at Georgetown University congratulates Ambassador Mark Dybul, O'Neill Institute Co-Director of the Global Health Law Program and Distinguished Scholar, on his appointment as the next Executive Director of the Global Fund to Fight AIDS, Tuberculosis and Malaria.  He will join the Fund in early 2013. 
"This is a wonderful day for the field of global health, and we are extremely proud of Mark.  We have no doubt that he will be transformative in his new role at the Global Fund," said Lawrence O. Gostin, Faculty Director of the O'Neill Institute.  "Mark is an invaluable member of our leadership team and we are very thankful for his contributions to the mission of the institute," added Oscar A. Cabrera, Executive Director of the O'Neill Institute.
At the O'Neill Institute, he co-directs the Global Health Law Program and is also a Distinguished Scholar. He is also the Global Health Fellow at the George W. Bush Institute. Ambassador Dybul has also served as chair of the Joint United Nations Programme on AIDS' coordinating board and as a member of the board of trustees of the Woodrow Wilson International Center for Scholars.
Ambassador Dybul served as the United States Global AIDS Coordinator from 2006 to 2009. In that role, he led the implementation of the President's Emergency Plan for AIDS Relief (PEPFAR), the largest international health initiative in history for a single disease. He oversaw U.S. government engagement in the Global Fund and was Chair of the Finance and Audit Committee.  He was a member of the Planning Task Force that created PEPFAR and the principal architect of the initial plan and implementation of PEPFAR.  He joined PEPFAR's staff in 2004, and served as Assistant, then Deputy, then Acting U.S. Global AIDS Coordinator. In 2006, he was appointed by to head the organization as U.S. Global AIDS Coordinator, which was the equivalent of an Assistant Secretary of State.
Ambassador Dybul received his A.B. in philosophy and his M.D. from Georgetown University before completing a residency in Internal Medicine at the University of Chicago Hospitals. He completed a fellowship in Infectious Diseases from the National Institute of Allergy and Infectious Diseases in 1995.
Additional information on the Global Fund and Ambassador Dybul's appointment can be found at http://www.theglobalfund.org/en/.  For more information about the O'Neill Institute, please visit www.oneillinstitute.org.
Posted in uncategorized ; Tagged: global fund, HIV, mark dybul, O'Neill Institute.