Could a Romney Administration Really Dismantle the ACA "On Day One"?
By O'Neill Institute | Leave a Comment
This post was written by Madhu Chugh. Ms. Chugh is a scholar at the O'Neill Institute at Georgetown University Law Center and an attorney at Wilmer Cutler Pickering Hale and Dorr LLP.  The views expressed in this post are the author's alone and do not reflect the views of WilmerHale or the O'Neill Institute.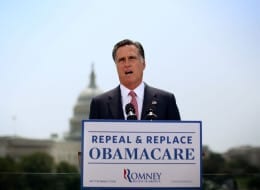 Mitt Romney has promised that one of his first orders of business, if elected President, would be to dismantle the Affordable Care Act (ACA), President Barack Obama's signature health reform law enacted in March 2010.  In order to repeal the ACA, a President Romney would need Congress's cooperation.  If Congress (perhaps the Senate in particular) refused to back repeal, the question would arise: What could a Romney Administration do, based solely on executive authority, to slow or undermine the implementation of the ACA?  If elected, Mr. Romney would have a few options at his disposal to impede how the law is carried out.  Commentators elsewhere have discussed how Mr. Romney could curtail implementation through rulemaking and other avenues.  This post analyzes two other potential tools in a President's arsenal—namely "waiving" state compliance with the ACA and defunding the programs created by the law.
Pseudo-Repeal of ACA Through Waivers
Mitt Romney has said that on his first day in office, he would issue waivers releasing federal agencies and all 50 states from their statutory obligations to implement the ACA.[i]  The Romney campaign has provided few details of what the substance of such executive directives would look like except to say that they would "[d]irect[] the Secretary of Health and Human Services [HHS] and all relevant federal officials to return the maximum possible authority to the states to innovate and design health care solutions that work best for them."[ii]  Mr. Romney has offered this proposal as an alternative to repeal of the law, should Republicans fail to capture majorities in both the House of Representatives and the Senate.[iii]  
But there is no obvious source of authority in existing law that would allow a President to give states such a pass on implementing the health reform law.  For one thing, no provision in the ACA allows states to forgo implementation completely.  The Romney campaign has identified Section 1332, entitled "Waiver for State Innovation," as the statutory source for waiver authority.[iv]  That section, however, only allows states flexibility in how states implement a few particular provisions of the Act, not whether they do so.[v]  At the same time, to ensure that states would comply with the substantive requirements of the Act, Congress placed significant limitations in Section 1332 on the HHS Secretary's discretion to grant waivers.  For example, the Secretary may grant a waiver only if a state shows that it has a plan to provide a minimal level of coverage as required by the Act, including coverage of ambulatory patient services, prescription drugs, and preventive and wellness services.[vi]  In addition, a state's plan must cover at least as many people as would be covered under the Act, and the cost-sharing provisions of a state's plan must be at least as affordable as those required by the Act.[vii]  All of this assumes that a state would apply for a waiver, a necessary step for triggering application of Section 1332 in the first place.[viii]  Most important, Section 1332 does not go into effect until January 1, 2017,[ix] meaning that the next administration could not grant waivers to states for at least a few years.
Second, beyond the ACA, no other waiver provision exists in the U.S. Code that gives a President authority to let states off the hook from implementing or complying with the Act.  Section 1115 of the Social Security Act, one of the most well-known waiver provisions in health law and policy circles, provides the HHS Secretary with significant discretion to waive a state's compliance with certain federal health and welfare requirements.[x]  States have requested Section 1115 waivers primarily to experiment with payment schemes, cost-sharing requirements, benefit packages, and other aspects of their Medicaid and SCHIP programs.[xi]  Section 1115, however, does not permit the HHS Secretary to issue waivers that would allow states to make changes to their Medicaid and SCHIP programs that would undermine the objectives of the program, nor could waivers be used to end-run the ACA's mandates and prohibitions, such as the health insurance market reforms, for example.  Simply put:  Only Congress could provide the wholesale waiver authority a Romney administration would want and need.
Without a statutory anchor, Mr. Romney's proposed executive orders would arguably be "incompatible with the express or implied will of Congress" to expand affordable health care coverage to millions of currently uninsured Americans, as clearly reflected in the ACA.[xii]  A Romney administration therefore could face serious political and legal challenges if it attempts to use waivers to effectively amend or repeal the ACA without congressional approval.[xiii]
Defunding the ACA
As former Senate Majority Leader Tom Daschle has cautioned, perhaps the greatest threat to implementation of the ACA is the prospect of eliminating funding for many of the critical programs created by the law that expand access to affordable health care coverage.[xiv]  Every year, the President proposes a budget to fund operations of government activities, providing him an important and powerful opportunity to set the agenda.  With the nation continuing to face massive budget deficits, Mr. Romney could argue that cutting back on federal subsidies for obtaining health insurance coverage or curtailing the Medicaid expansions passed in the ACA are essential for balancing the budget.[xv] 
But two significant limits exist on a President's attempts to have portions of the ACA defunded. 
For one thing, Congress makes the ultimate decisions regarding which programs should be funded.  As James Madison aptly explained, Congress's power of the purse is "the great bulwark which our Constitution has carefully and jealously established against Executive usurpations."[xvi]  A Romney Administration therefore would have to convince Congress that it should not appropriate monies to continuing the programs created by the ACA.  If Republicans are unable to obtain majorities in both the House and Senate, however, convincing Congress to defund provisions of the health reform law could be an uphill battle—particularly given that Democrats would almost certainly argue that Republicans were attempting to take away access to popular health care benefits and insurance reforms that have already been promised to the American people.  And even if Republicans are able to secure majorities in both houses, Democrats could filibuster an appropriations bill that defunds aspects of the ACA.
Second, and just as importantly, a number of the key programs created by the ACA are not subject to the annual appropriations process. The ACA mandates funding or requires transfers from the Medicare Trust Fund for certain new programs, including grants to help states set up health care exchanges,[xvii] an institute to test models for paying for and delivering care to Medicare and Medicaid beneficiaries,[xviii] and a board to help Congress identify policies to slow the rate of Medicare spending.[xix]  In addition, because Medicaid is an entitlement program, the coverage expansions enacted in the ACA do not rely on the annual appropriations process for funding. 
Congress would therefore have to enact legislation to repeal these provisions or at least amend the ACA to remove these guaranteed funding streams.  Certainly, some House members have not been shy about offering such proposals, but they have faced and likely will continue to face the similar sort of political difficulties that a proposal for outright repeal of the law would raise, even if Mr. Romney is elected president.  This is not to say that the budget process does not offer important opportunities for Mr. Romney and members of Congress to hamper implementation of the law—it does, as others have explained—but it may not be as straightforward an option as some may think.
There is no doubt that Mr. Romney, if elected president, could interfere with implementation of the Affordable Care Act and prevent President Obama from fully realizing his goal of expanding access to affordable health care coverage for all Americans.  But Mr. Romney's promises to dismantle the Act "on day one" likely would end up being no more than rhetoric offered during a presidential campaign.
---
Posted in Health reform, Healthcare, uncategorized ; Tagged: ACA, health reform, national health law, Obamacare, Romney.