Drugs, Babies, Nursing Homes, Cigarettes, and Death: A Year of Health Law at the Canadian Supreme Court
By Lorian Hardcastle | Leave a Comment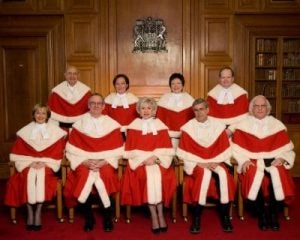 Given the importance of health as a public policy issue and its profound effect on an individual's life, it is not surprising that courts are frequently called upon adjudicate health sector claims.  Due to the government's increasing health sector regulation and, in Canada, its role as health system insurer, the government often appears as a party in health sector cases.  Although this post is a summary of the past year's decisions from the Canadian Supreme Court, U.S. courts and policymakers face similar issues, for example, the balance between governmental accountability and judicial deference, the right to privacy versus the importance of the free exchange of information, and the rights of individuals versus communities in the context of scarce health resources.  Furthermore, litigation in Canada can impact the U.S., given their proximity and economic ties.          
November 2010:  Privacy of Proprietary Drug Information
Although the Supreme Court of Canada reserved judgment in Merck Frosst Canada Limited v. Minister of Health, it is likely to release its decision in the fall.  Little is known about the facts of this case due to a publication ban, but the federal government allegedly disclosed proprietary information relating to Merck's drug Singulair (an asthma medication), in contravention of a five-year moratorium on the disclosure of information following drug approval.  Merck also alleged that information had been disclosed without notice, in contravention of federal privacy legislation.  This case has broader implications for the economy and health sector innovation, as it may diminish the incentive for biotechnology investment and medical research in Canada.
December 2010: The Constitutionality of Assisted Reproduction Legislation
After extensive consultation, the federal government passed the Assisted Human Reproduction Act in 2004.  This legislation comprehensively addresses human reproduction, including prohibitions on human cloning and the commercialization of human reproductive material and reproductive functions, consent to use of reproductive materials, licensing for facilities providing assisted reproductive services, a registry of information respecting donors and individuals conceived by assisted reproduction, the creation of an Agency to administer the Act, and penalties for violating the Act.  The Attorney General of Quebec accepted that some of the provisions were valid criminal law (part of the federal government's constitutional jurisdiction) but argued that other sections encroached on provincial jurisdiction over hospitals, property and civil rights, and local matters.  In a 5-4 split decision, a majority of the Supreme Court of Canada agreed that much of the Act exceeded federal jurisdiction.  For example, the Court deemed licensing and information registry provisions unconstitutional.  However, consent requirements, regulations on the use of embryos in research, and bans on cloning were valid criminal law.  Controversially, bans on reimbursing egg and sperm donors and surrogates, which affect the availability of these services, are constitutionally valid.  It remains to be seen whether provinces will create their own legislative schemes, or whether assisted reproduction—a politically contentious area—will remain largely unregulated in Canada.
May 2011: Provincial Government Liability for Nursing Home Charges
Under Canada's publicly-funded health insurance scheme, provincial governments provide universal insurance for medically necessary physician and hospital services.  Although nursing home residents may be responsible for accommodation charges to cover housing and meals, their medical care is paid through provincial insurance plans.  A class action by nursing home residents claimed that the Alberta government and regional health authorities failed to ensure that accommodation charges were not used to subsidize medical care costs.  The Supreme Court of Canada struck the plaintiffs' claims for breach of fiduciary duty, negligence and bad faith, finding that the government owes limited private law duties to its citizens.  However, claims based on unjust enrichment and a violation of the constitutional right to be free from discrimination on the basis of age were allowed to proceed to trial.  More broadly, this case could force policymakers to confront criticisms of the patchwork of governmental regulation, oversight, and funding of the nursing home sector.  These discussions are long-overdue, given the decades-long push towards deinstitutionalization from hospitals, long wait lists for nursing home beds, and the aging population. 
July 2011: Federal Government Compensation for Tobacco Related Damages
The Supreme Court of Canada has heard challenges to governmental tobacco control efforts, including packaging and marketing restrictions, display restrictions, and legislation enabling the government to recover health care costs from tobacco companies.  The Court recently addressed two ongoing cases in the British Columbia courts—an action by the provincial government to recover health care costs from 14 tobacco companies and a class action by smokers alleging that marketing cigarettes as "light" or "mild" is misleading.  Both cases required the Court to assess whether the federal government should share liability with tobacco company defendants, due to its role in encouraging the use of low-tar products. 
The Court found that the federal government owed no legal duty to consumers, as statements respecting low-tar cigarettes were made to the general public and the government had no interaction with consumers.  Although the government's regulatory powers and its specific advice to tobacco companies indicated a prima facie duty to tobacco companies, the Court refused to find a legal duty due to policy considerations.  Because the government's decisions were based on public policy considerations (economic, social, and political factors), they were exempt from the review of courts.  In addition, the Court was concerned that a legal duty would expose the government to indeterminate liability.  The Court also rejected claims grounded in statute.  For example, the defendants argued that the government was a "manufacturer" under health care cost recovery legislation (due to its role in producing low-tar strains of tobacco), and was thus also liable for tobacco-related health care costs.  The Court deemed this interpretation contrary to the text of the statute, the relationship between the province and the federal government, and legislative intent (which was to transfer health care costs from taxpayers to the tobacco industry).  Although this case was a victory for government, it was another procedural motion in a lengthy and costly litigation process.  It could be many more years before the government or plaintiffs recover money from tobacco companies.  However, as numerous other provinces have followed British Columbia's lead in filing claims, tobacco companies could ultimately be liable for billions of dollars of compensation.  
Upcoming End-of-Life Cases
It is likely that the Supreme Court of Canada will soon hear an appeal from a May 2011 decision by the Ontario Court of Appeal.  In Rasouli v. Sunnybrook Health Sciences Centre, the Court of Appeal addressed whether substitute decision-maker consent is necessary to withdraw life-sustaining measures (ventilation and artificial nutrition and hydration).  Although patients have a clear right to refuse treatment, their right to insist on treatment that doctors deem medically ineffective is unsettled and raises important ethical and health resource issues.  The Court of Appeal concluded that under Ontario legislation, "treatment", which requires consent, included life-sustaining measures, even those that are no longer medically indicated.  The Court's decision was likely influenced by the fact that physicians have other recourse under Ontario law—they can apply to the Consent and Capacity Board, which has the authority to overturn a family's decision that is not in the patient's best interest.
In the next few years, the Supreme Court is also likely to reconsider the constitutionality of the criminalization of assisted suicide.  In 1993, the Court rejected a claim by a terminally ill woman that criminal prohibitions on assisted suicide violated her constitutionally protected rights to life, liberty and security of the person; to be free from cruel and unusual treatment; and to be free from discrimination on the basis of a disability.  Cases have been filed in the British Columbia courts by the Farewell Foundation and the B.C. Civil Liberties Association (representing a physician who wants to assist terminally ill patients in dying, an individual with a terminal illness, and individuals who took a family member to Switzerland to end her life and who now fear criminal prosecution).  On August 3, 2011, the B.C. courts decided will decide whether to fast-track the claim of an individual with Lou Gehrig's disease.  Given significant shifts in attitudes towards assisted suicide, and the legalization of assisted suicide in other jurisdictions, the Supreme Court of Canada may be willing to overturn its 1993 findings.  Furthermore, the 1993 decision was a 5-4 split, and the only justice still on the Court (now Chief Justice McLachlin) dissented in favor of granting the plaintiff the right to assisted suicide.        
Posted in uncategorized ;