Inter-American Commission Grants Precautionary Measures to Save the Life of Beatriz
By Paula Avila | Leave a Comment
 This post was written by Francisco J. Quintana (Legal Intern from Universidad Torcuato Di Tella, and Paula Avila Guillen (Institute Associate) of the O'Neill Institute for National and Global Health Law. Any questions or comments about this post can be directed to pa390@law.georgetown.edu.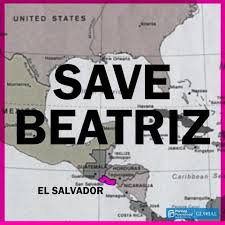 "Beatriz", a 22-year old woman, is pregnant with an anencephalic fetus. She has been diagnosed with several illnesses, including lupus and renal failure. Her anencephalic fetus will die almost immediately, likely in the first hours or days after the birth. Her pregnancy is threatening her life. Her family is extremely poor and her likelihood of survival diminishes with each day that passes. Yet, abortion is not an option for Beatriz.
Beatriz lives in El Salvador. As most Latin American countries, El Salvador criminalizes abortion having a total abortion ban, which does not contemplate any exception for the health or the life of a pregnant woman. The Huffington Post, quoting the New York Times, explains that "El Salvador has not only a total ban on abortion but also an active law-enforcement apparatus — the police, investigators, medical spies, forensic vagina inspectors and a special division of the prosecutor's office responsible for Crimes Against Minors and Women, a unit charged with capturing, trying and incarcerating an unusual kind of criminal."[1] Thus, Beatriz may have to decide between saving her life or going to jail.
On April 26, a group of United Nations independent human rights experts called on the government of El Salvador to provide life-saving treatment to Beatriz. "We urge the Government of El Salvador to take all necessary measures to ensure the protection and full enjoyment of the right to life, and to the highest attainable standard of health for Beatriz, in accordance with international human rights law," said the UN special rapporteurs on right to health, torture, and violence and discrimination against women, Anand Grover, Juan E. Méndez, Rashida Manjoo and Kamala Chandrakirana, respectively.
On April 29, the Inter-American Commission on Human Rights granted Beatriz her requested for  precautionary measures. The request for precautionary measures alleged that the Committee of the hospital where Beatriz had been admitted had determined that an abortion was necessary in order to save her life. Doctors have not gone ahead with the abortion because they fear they could be prosecuted. They requested government permission to perform it, but, as the Commission ratified, there has not been a response from the State. The petitioners expressed that the lack of implementation of the recommended medical treatment could affect the rights to life, integrity and health of the Beatriz. The measures granted by the Commission urged the Salvadoran State to provide Beatriz with the medical treatment indicated by her doctors in accordance with her wishes within 72 hours, in order to protect her life, personal integrity and health. The government still has not done so.
This is not the first time that the Commission has granted precautionary measures in these circumstances. In 2010, the Inter-American Commission granted precautionary measures to protect the life of "Amalia" a Nicaraguan woman that needed an abortion in order to save her life. Even though, in 2009, the Commission had also granted precautionary measures in the case of X and XX in which a Colombian woman's 14-year old daughter, who was raped and was pregnant, was denied the right to a legal abortion[2], the case of Amalia was the first one in which the Commission recognized that States have the obligation to provide abortion services in extreme cases and to protect the lives of the woman.  The case of Beatriz is the second precedent in the Commission and opens a widow of hope for many women that are being denied abortion services and risking their lives. 
Posted in Global Health, Human Rights, uncategorized ; Tagged: abortion, global health, human rights, latin america, maternal mortality, United Nations.