O'Neill Institute's Work on Global Tobacco Control Featured in Tobacco and Poverty Research Network Newsletter
By O'Neill Institute | Leave a Comment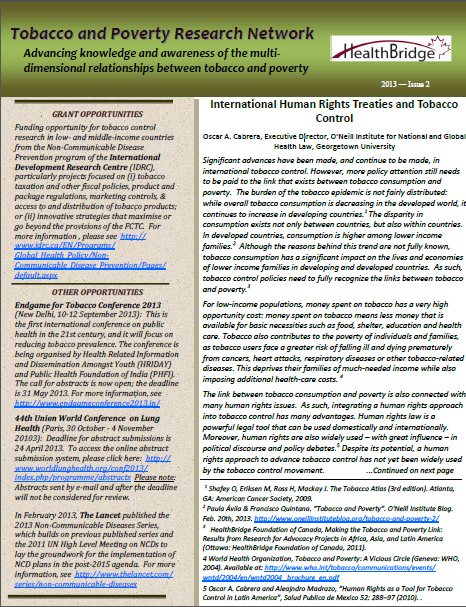 The O'Neill Institute's work with international human rights and global tobacco control is featured in the latest edition of the Tobacco and Poverty Research Network newsletter, written by Oscar Cabrera, Executive Director of the O'Neill Institute for National and Global Health Law.  An excerpt of the article is below. Any questions can be directed to cabrera@law.georgetown.edu.
International Human Rights Treaties and Tobacco Control
Significant advances have been made, and continue to be made, in international tobacco control. However, more policy attention still needs to be paid to the link that exists between tobacco consumption and poverty. The burden of the tobacco epidemic is not fairly distributed: while overall tobacco consumption is decreasing in the developed world, it continues to increase in developing countries. The disparity in consumption exists not only between countries, but also within countries. In developed countries, consumption is higher among lower income families.Although the reasons behind this trend are not fully known, tobacco consumption has a significant impact on the lives and economies of lower income families in developing and developed countries. As such, tobacco control policies need to fully recognize the links between tobacco and poverty.
For the complete article and issue please visit: http://www.healthbridge.ca/TPRN_Newsletter_11.pdf
Categories: uncategorized
Tags: georgetown global health Global Health Initiative health legislation health reform human rights O'Neill Institute poverty tobacco tobacco control