O'Neill Law Fellows – Applications Open for Fall 2013
By O'Neill Institute | Leave a Comment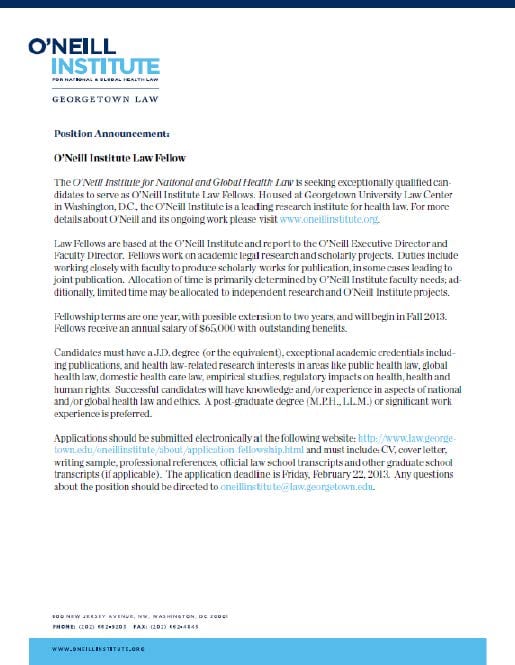 The O'Neill Institute for National and Global Health Law is  seeking exceptionally qualified candidates to serve as O'Neill Institute Law Fellows. Housed at Georgetown University Law Center in Washington,  D.C., the O'Neill Institute is a leading research institute for health  law. For more details about O'Neill and its ongoing work please visit www.oneillinstitute.org.
Law Fellows are based at the O'Neill Institute and report to the O'Neill Executive Director and Faculty Director.  Fellows work on academic legal research and scholarly projects.  Duties include working closely with faculty to produce scholarly works for publication, in some cases leading to joint publication.  Allocation of time is primarily determined by O'Neill Institute faculty needs; additionally, limited time may be allocated to independent research and O'Neill Institute projects. 
Fellowship terms are one year, with possible extension to two years, and will begin in Fall 2013.  Fellows receive an annual salary of $65,000 with outstanding benefits.
Candidates must have a J.D. degree (or the equivalent), exceptional academic credentials including publications, and health law-related research interests in areas like public health law, global health law, domestic health care law, empirical studies, regulatory impacts on health, health and human rights.  Successful candidates will have knowledge and/or experience in aspects of national and/or global health law and ethics.  A post-graduate degree (M.P.H., LL.M.) or significant work experience is preferred.
Applications must include: CV, cover letter, writing sample, professional references, official law school transcripts and other graduate school transcripts (if applicable).  The application deadline is Friday, February 22, 2013.  Any questions about the position should be directed to oneillinstitute@law.georgetown.edu.
You can also download the PDF of this posting.
APPLICATION DEADLINE: Friday, February 22, 2013
Categories: uncategorized
Tags: fellows fellowship global health Global Health Initiative Gostin health legislation health reform human rights internship internships job jobs law fellow O'Neill Institute