Our Recent Publications in Global Health Law
By O'Neill Institute | Leave a Comment
2012 was a busy year for us all. Below are some of our most recent publications on Global Health Law. 
Feel free to explore these highlighted works and visit our publications page for additional journals, studies, articles and more.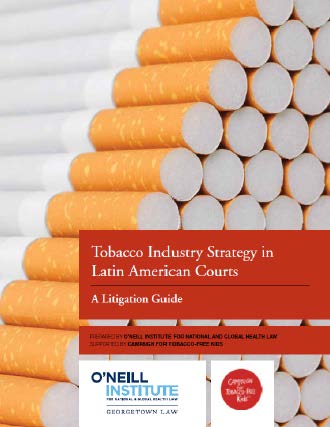 O'Neill Institute for National and Global Health Law. 2012. Tobacco Industry Strategy in Latin American Courts: A Litigation Guide. Toolkit (Spanish) Toolkit (English)
The ratification of the WHO Framework Convention on Tobacco Control (FCTC) by 15 countries in Latin America has played a central role in generating momentum for strong tobacco control laws at the municipal, provincial and national levels – even in the few countries that have not yet ratified the treaty.
The tobacco industry has correspondingly stepped up two related efforts. First, it is spending substantial resources to sway lawmakers against passing effective tobacco control laws. Second, where its efforts to dilute or weaken tobacco control laws fail, it turns to the courts, often deploying the same or similar arguments based on certain purported "rights." These "rights" relate to the advertising and marketing of its products, the "rights" of citizens to consume those products in public or occupational spaces, and the "rights" of proprietors and employers to permit such consumption.
This guide provides a framework with which to analyze these asserted rights and mount effective responses to them. While our focus is on tobacco control litigators, we believe it will be a useful guide for lawyers within ministries of health and private practice attorneys seeking compensation for clients injured by tobacco products. In this guide, there is a focus on analyzing arguments connected to freedom of expression, as we found that it is the most common strategy for the tobacco industry in the region. In addition, other arguments analyzed include ones related to private property, economic freedom, the right to work and anti-discrimination. After that analysis, we suggest possible answers based on constitutional and human rights arguments.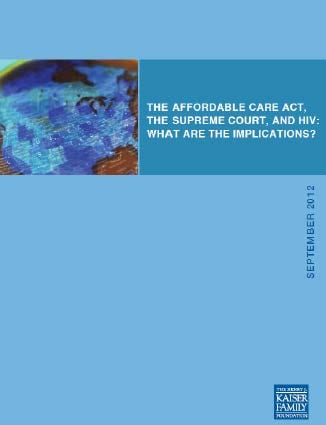 Crowley, Jeffrey S. , and Jen Kates. "The Affordable Care Act, The Supreme Court, and HIV: What Are the Implications?" The Henry J. Kaiser Family Foundation (2012).
Assuring that all Americans living with HIV have access to quality health care has been a challenge since the earliest years of the HIV epidemic. The Affordable Care Act (ACA), signed into law by President Obama in 2010 (Public Law 111-148), aims to expand access to affordable health coverage and reduce the number of uninsured Americans. As such, when fully implemented in 2014, it is expected to significantly expand access for people with HIV, many of whom are uninsured or otherwise unable to access affordable and stable health care coverage. Access to care, particularly antiretroviral treatment (ART),is not only critical for the health of people with HIV, it also carries important public health benefits with recent research demonstrating that ART significantly reduces the risk of HIV transmission from an HIV positive to negative individual. Soon after the ACA was passed, however, its constitutionality was challenged in federal court, and eventually heard by the Supreme Court, which issued a much anticipated decision on June 28, 2012, in the case of National Federation of Independent Business v. Sebelius. This issue brief explores the implications of the ACA for people with HIV, taking into account the Supreme Court's recent ruling. It provides an overview of key ACA provisions of particular importance to people with HIV, the changes resulting from the Supreme Court's decision, and looks ahead at key remaining questions and opportunities.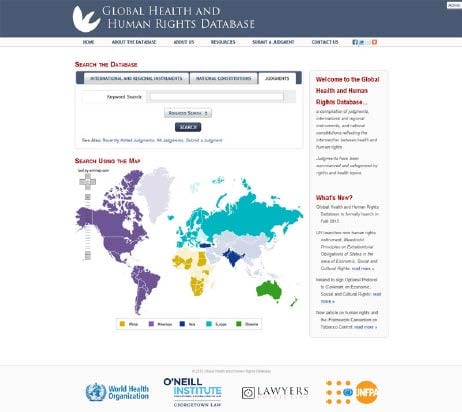 Meier, Benjamin M, Oscar A Cabrera, Ana S Ayala, and Lawrence O Gostin. "Bridging International Law and Rights-based Litigation: Mapping Health-related Rights through the Development of the Global Health and Human Rights Database." Health and Human Rights: An International Journal (2012).
The O'Neill Institute for National and Global Health Law at Georgetown University, the World Health Organization, and the Lawyers Collective have come together to develop a searchable Global Health and Human Rights Database that maps the intersection of health and human rights in judgments, international and regional instruments, and national constitutions. Where states long remained unaccountable for violations of health-related human rights, litigation has arisen as a central mechanism in an expanding movement to create rights-based accountability. Facilitated by the incorporation of international human rights standards in national law, this judicial enforcement has supported the implementation of rights-based claims, giving meaning to states' longstanding obligations to realize the highest attainable standard of health. Yet despite these advancements, there has been insufficient awareness of the international and domestic legal instruments enshrining health-related rights and little understanding of the scope and content of litigation addressing these rights. As this accountability movement evolves, the Global Health and Human Rights Database seeks to chart this burgeoning landscape of international and regional instruments, national constitutions, and judgments for health-related rights. Employing international legal research to document and catalogue these three interconnected aspects of human rights for the public's health, the Database's categorization by human rights, health topics, and regional scope provides a comprehensive compilation of health and human rights law. Through these categorizations, the Global Health and Human Rights Database serves as a basis for analogous legal reasoning across states to serve as precedents for future cases, for comparative legal analysis of similar health claims in different country contexts, and for empirical research to clarify the impact of human rights judgments on public health outcomes.
Dybul, Mark, Peter Piot, and Julio Frenk. "Reshaping Global Health." Policy Review 173 (2012).

Movement along the arc of development has been propelled by new worldviews and the creation of institutions to respond to them. In the 19th and 20th centuries, development efforts evolved from colonial expansion to missionary zeal, the aftermath of two world wars, the Cold War, economic self-interest, and postcolonial guilt. Numerous private and public organizations were created to respond to shifting demands, including multilateral and bilateral organizations wholly or partially dedicated to global health.
The opening ten years of the 21st century arguably were the decade of global health. Resources increased significantly and many millions of lives were saved and improved. The rapid expansion in global health was part of a broader conceptual movement that created core principles for the use of resources in a new era in development. The first expression of new thinking was the historic Monterrey Consensus, which was later refined by the Paris Declaration and the Accra Accord. The foundational principle outlined in those agreements is a move from paternalism to shared responsibility and mutual accountability. Key to shared responsibility are leadership and strategic direction for the use of resources by the country in which they are deployed ("country ownership"). Achieving country ownership requires good governance, a results-based approach, and the engagement of all sectors of society.
Categories: uncategorized
Tags: AIDS blog Brazil global fund global health Global Health Initiative health coverage health legislation health reform HIV human rights latin america mark dybul national health law National Healthcare O'Neill Institute Supreme Court tobacco control UN UNAIDS WHO World Health Organization