Coca-Cola Helps the Global Fund Deliver Medicines: A Look at the Ethics of Public-Private Partnerships
By Jon Jay | Leave a Comment
In the Institute's last blog posting, Tanya Baytor commented on how large manufacturers of unhealthy foods, including Coca-Cola, McDonald's and Cadbury's, took advantage of the Olympics to associate their products with health.  Tanya raised the concern that these companies' exclusive Olympic sponsorship deals helped them market to children, a segment of the population which is especially susceptible to food marketing and which suffers from epidemic levels of obesity and overweight.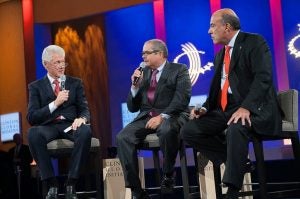 At the Clinton Global Initiative two weeks ago, the Global Fund to Fight AIDS, Tuberculosis and Malaria announced that it would be expanding its partnership with Coca-Cola called Project Last Mile.  Under this project, Coca-Cola lends its supply chain management expertise to help the Global Fund improve delivery of essential medicines to clinics in hard-to-reach rural areas, starting in Africa.  (Rather than including medicines in shipments of Coke, a plan which was considered but scrapped, the company works with Accenture to help host country governments improve distribution networks.)  The project was piloted in Tanzania, where, according to the Daily Beast, "delivery times have been cut from 30 days to five. When patients seek vaccination, they find the right one in 80 percent of cases, up from 50 percent two years ago." 
In most ways, the project is a textbook example of a public-private partnership for global health.  Coca-Cola has expertise that Global Fund recipients need, and is willing to give it away for free.  And improvements in Global Fund delivery systems save lives.  Melinda Gates loves this idea.  But Coca-Cola is also at the forefront of long-term food industry trends that have contributed substantially to poor health and, increasingly, have drawn comparisons to the behavior of cigarette companies.  As a result, the Olympic sponsorship seems like an instance of irresponsible corporate behavior and poor institutional ethics from the International Olympic Committee.  What about Project Last Mile and the Global Fund?  How can we distinguish this partnership?
It's generally accepted that corporations which peddle products inherently dangerous to health–e.g., cigarettes–would not be suitable private partners for a governmental or not-for-profit public health organization.  Other potential concerns include the appearance of organizational endorsement of a specific product, or instances in which a company might be trying to buy the imprimatur of the organization for its product or corporate behavior.  For example, the CDC Foundation (the non-profit affiliate of the Centers for Disease Control which organizes partnerships) follows guidelines including:
 Areas of Prohibition:
• Partnership with an organization that represents any product that exacerbates morbidity or mortality when used as directed (mission compatibility)
• No product endorsement or the appearance of product endorsement
Areas of Caution:
• Event sponsorships, other than those affiliated with endowed public health educational activities available to broad and diverse audiences
• CDC co-branding only with the approval of CDC review committee for this purpose
• Activities where the partner is most interested in donor recognition
• Other issues that the CDC Foundation staff may determine, on a case-by-case basis, constitute "red flag issues" warranting more detailed examination
But the ethics of public-private partnerships are poorly defined and need clearer foundational principles.  Coca-Cola products may contribute to bad health, but it's harder to argue that they are inherently dangerous (though trends may be shifting this direction, at least among public health advocates).  It seems possible that certain Coke partnerships would be ethical and others wouldn't.  Consider two key features of the Olympic partnership that are absent in Project Last Mile.  First, the Olympic partnership capitalized on the nature of the event to cast a healthy light on the product.  The association with Olympians–paragons of vitality and active lifestyles–cut directly against the reality of how these products contribute to poor health.  The PR benefit for Coca-Cola went beyond simple good corporate citizenship, instead subtly misleading consumers on an important issue, and there was a close nexus between the type of harm created by the company's product and the type of public relations claim advanced by the sponsorship.  If this principle holds up, letting a tobacco company sponsor your darts tournament is bad, but letting it sponsor your road race is worse. Second, the Olympics sponsorship targets its message towards a vulnerable population: children, who are apparently highly susceptible to food marketing and responsive in their eating habits.  (Hence the comparisons of Ronald McDonald to Joe Camel.)
Project Last Mile doesn't seem to violate either of these principles.  On the other hand, the project does appear to increase the company's influence among health policymakers: when host country governments depend on Coca-Cola to develop their supply chain networks, is there any chance they would push back against the corporation on public health issues?   Low- and middle-income countries represent the sales growth opportunities for Coca-Cola and similar producers; they're also the countries where diet-related, non-communicable diseases are most likely to increase in the near future.  
The Global Fund and local governments receive a concrete benefit from partnerships like these.  They might well argue in this case that the near-term needs for lifesaving medicines outweigh long-term concerns over corporate behavior and non-communicable diseases.  It may also be that there is insufficient political will to keep corporations from pushing unhealthy foods into developing country markets, even if governments and multilateral players choose to reject these partnerships.  But it will be impossible to analyze the tradeoffs until ethical principles for these partnerships have been better fleshed out.
Posted in Global Health, uncategorized ;