U.S. Supreme Court Upholds the Constitutionality of the ACA
By O'Neill Institute | Leave a Comment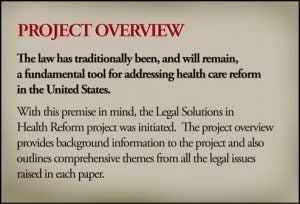 Today, the U.S. Supreme Court upheld the constitutionality of the Patient Protection and Affordable Care Act (ACA) in a historic decision. 
The O'Neill Institute for National and Global Health Law has been engaged in this important conversation primarily with our research project Legal Solutions in Health Reform.  As early as 2008, Legal Solutions began to identify practical, workable solutions to the kinds of legal issues that would (and did) arise in the federal health reform debate.  These analyses can be found in a compendium of prescient papers authored by noted health law and policy scholars – of particular relevance is Mark Hall's paper, "The Constitutionality of Mandates to Purchase Health Insurance," which foreshadowed many of the arguments raised before the Supreme Court.  Additionally, a separate series of articles and O'Neill Institute briefings authored by our faculty director, Lawrence Gostin, discussed the parameters of the ACA itself and subsequent challenges raised before the Court.
In the coming days, the O'Neill Institute will provide a much more comprehensive and nuanced analysis of today's decision as well a discussion on implementation of the ACA.  We hope to continue to provide stakeholders with both a concise analysis of the complex legal issues relating to health reform and a clear articulation of the range of solutions available – please stay tuned.
Posted in uncategorized ; Tagged: ACA, health reform, National Healthcare.