Workshop on Legal issues in Tobacco Control for Latin American Attorneys
By O'Neill Institute | Leave a Comment
The O'Neill Institute for National and Global Health Law at Georgetown University, in collaboration with the Campaign for Tobacco Free Kids, the International Union Against Tuberculosis and Lung Disease, and the Framework Convention Alliance for Tobacco Control organized a workshop on Law and Tobacco Control in Rio de Janeiro on June 15-17, 2011.
This training workshop is part of a legal capacity building strategy, underway since 2008, to empower tobacco control efforts in Latin America. There were more than twenty participants from Argentina, Bolivia, Brazil, Colombia, Chile, Ecuador, Mexico, Paraguay, Peru, and Uruguay.  Participants were from academia, government and civil society organizations.
The workshop addressed topics such as: i) the role of judicial tribunals and strategic litigation on in the area of tobacco control, ii) consumer protection law and tobacco control, iii) packaging and labeling of tobacco products, iv) labor law and tobacco control and v) intellectual property rights, investment law and the right to health with regards to tobacco regulation. Among other presenters, Oscar Cabrera and Juan Carballo, of the O'Neill Institute highlighted tobacco regulations' connections with the right to health and coordinated the discussion about litigation strategies in Latin America.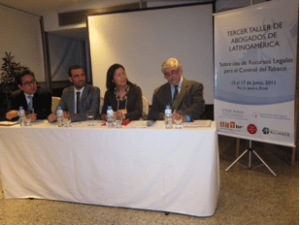 Representatives from the organizing institutions: Oscar Cabrera (Deputy Director at the O´Neill Institute for National and Global Health Law at Georgetown University), Jonás Romo (International Union Against Tuberculosis and Lung Disease), Patricia Sosa (Campaign for Tobacco Free Kids), and Luiz Antonio Santini (Aliança de Controle do Tabagismo)
Tobacco consumption poses a major public health threat worldwide, although the tobacco industry is increasingly focusing on developing countries as a result of the strong tobacco control laws and higher taxes imposed in the wealthier countries of North America and Europe. According to Fernando Müller and Luis Wehbe, there are more than 120 million smokers in Latin America, over half of whom will die from a tobacco-related disease. Latin America has been broadlyclassified at Stage 2 of the tobacco epidemic, a stage marked by an increasing smoking prevalence in men, the beginning of an increasing smoking prevalence among women, and a smoking-attributable mortality rate for men that has not yet peaked.
In this context, the ratification of the Framework Convention on Tobacco Control by 16 countries in Latin America has played a central role in generating momentum for strong tobacco control laws at the municipal, provincial and national levels – even in the few countries that have not yet ratified the treaty.  Nine out of those 16 states were represented during the workshop. Currently, there are many legislative discussions and judicial cases on tobacco control related issues in South America and Mexico. Thus, strengthening the legal capacity to tackle the tobacco epidemic is becoming an extremely important objective in these countries.
Posted in FCTC, Global Health, Tobacco, uncategorized, WHO ; Tagged: FCTC, latin america, tobacco control.