Georgetown University Law Center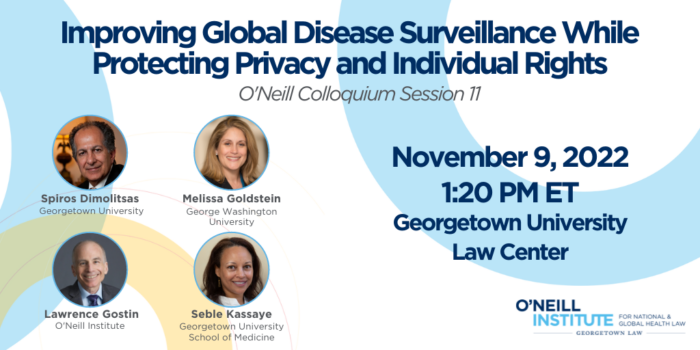 Please join the O'Neill Institute on Wednesday, November 9, from 1:20-3:20PM EST for a colloquium session on improving global disease surveillance. The panel will explore how we can effectively design global and national health policy to balance a growing need for effective global disease surveillance, while also adhering to the imperative to protect individual rights and privacy.
This week's session will take place in the Faculty Dining Room (Hotung 2001) on the Georgetown Law campus.
Speakers: 
Spiros Dimolitsas

, Senior Vice President for Research & Chief Technology Officer, Georgetown University

Melissa Goldstein

, Associate Professor, Milken Institute School of Public Health, George Washington University

Seble Kassaye

, Associate Professor, Georgetown University School of Medicine
Moderated by: Lawrence Gostin, Faculty Director, O'Neill Institute for National and Global Health Law; University Professor, Georgetown University Law Center