Georgetown University Law Center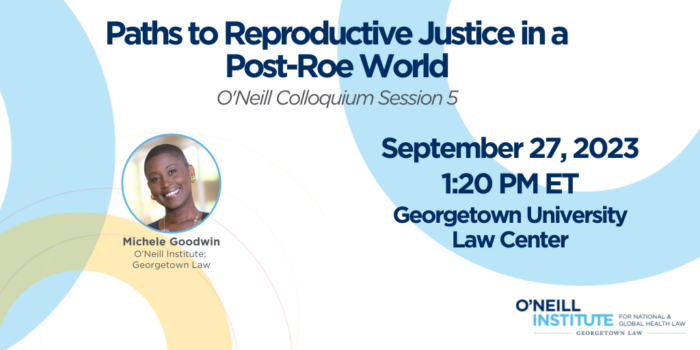 The O'Neill Institute Colloquium is an annual discussion series that addresses the most important health law issues of the day.
Please join the O'Neill Institute on Wednesday, September 27, from 1:20-3:20 p.m. ET for the next blockbuster session of the 2023 colloquium series, "Paths to Reproductive Justice in a Post-Roe World." This session will explore the cascade of legal issues that have emerged from the Dobbs decision, and the ongoing fight for reproductive justice in this new reality.
The first half of the session will be a keynote address from Dr. Michele Bratcher Goodwin, which will be followed by a Q&A in the second half.
Speaker:
Michele Bratcher Goodwin,

Co-Faculty Director, O'Neill Institute; Linda D. & Timothy J. O'Neill Professor of Constitutional Law and Global Health Policy, Georgetown Law