Georgetown University Law Center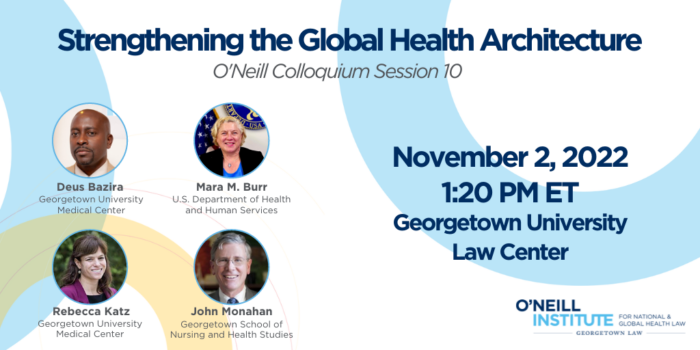 Please join the O'Neill Institute on Wednesday, November 2, from 1:20-3:20PM EST for a colloquium session on strengthening the global health architecture. The speakers will look at how we can reform existing global health architecture to promote global health security — both through reforms to international treaties and organizations, and through improving the way that global health solutions are translated to local contexts.
This week's session will take place in the Faculty Dining Room (Hotung 2001) on the Georgetown Law campus.
Speakers:
Deus Bazira

, Director, Center for Global Health Practice and Impact, Georgetown University Medical Center 

Mara M. Burr

, Director, Multilateral Relations, Office of the Secretary, Office of Global Affairs, U.S Department of Health and Human Services

Rebecca Katz

, Director, Center for Global Health Science and Security, Georgetown University Medical Center
Moderated by: John Monahan, Advisor to the President, Georgetown University; Senior Scholar, O'Neill Institute; Senior Fellow, McCourt School of Public Policy