February 28, 2023
Washington, D.C. — Today, the O'Neill Institute for National and Global Health Law launched the Health Care Litigation Tracker — a free digital resource that tracks and analyzes health care litigation in the United States. Created by O'Neill's Health Policy and the Law Initiative, the website tracker contains current health policy litigation cases, with an emphasis on health care access, coverage, affordability, transparency, and equity.
The Health Care Litigation Tracker is designed to be user-friendly and accessible to legal professionals, journalists, and the general public. It is an easy, essential tool for navigating and understanding the role the courts play in shaping U.S. health care policy.
"Today the courts have a significant impact on shaping health care policy in the United States," said Andrew Twinamatsiko, associate director of O'Neill's Health Policy and the Law Initiative. "However, it can be challenging to follow the trends and patterns of legal disputes as they wind through our nation's 94 federal judicial districts, 13 appellate courts, and the Supreme Court. The O'Neill Institute created the Health Care Litigation Tracker to demystify the process and provide a valuable resource for anyone interested in following and understanding health care policy and the law."
The website tracks and analyzes a wide range of litigation in real-time including:
Challenges to federal health care laws such as the Affordable Care Act and the No Surprises Act.
Lawsuits over policies aimed at reducing health care costs related to price transparency, site-neutral payments, and anticompetitive practices.
Legal challenges to regulatory authority and decisions affecting major federal programs, such as Medicare and the 340B program.
The O'Neill Institute recognizes no one resource can comprehensively cover all issues. Therefore, the tracker generally does not include litigation related to significant but already well-covered topics such as Medicaid, abortion, public health, immigration, and climate change.
To stay up to date on the latest developments and trends in health care litigation and policy, visit the Health Care Litigation Tracker.
Selected screenshots from the website: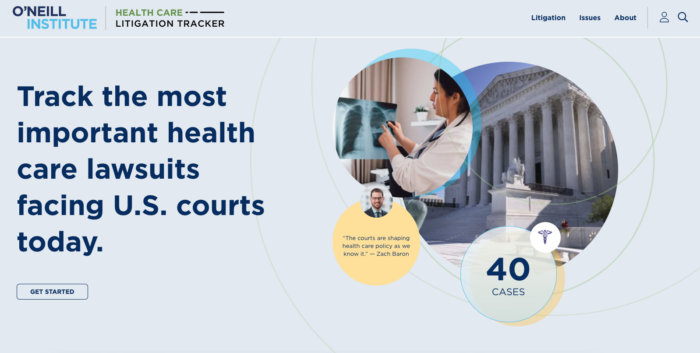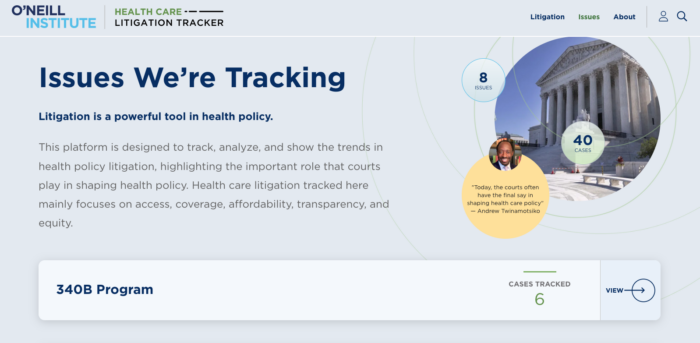 ++++
For further questions, please contact Cynthia Sun at Cynthia.Sun@georgetown.edu.