September 27, 2023
FOR IMMEDIATE RELEASE
CONTACT:
Heena Patel, O'Neill Institute Director of Strategic Communications
hp498@georgetown.edu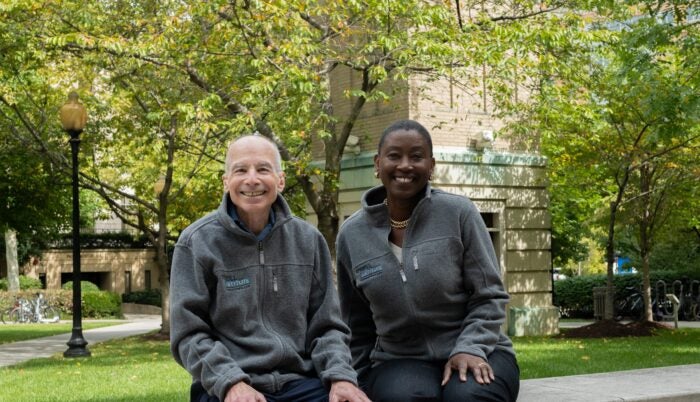 Washington, D.C. — The O'Neill Institute for National and Global Health Law is pleased to announce that Michele Bratcher Goodwin has joined as co-faculty director.
"Michele's extraordinary experience, wisdom, and distinguished reputation as a prolific health and constitutional law scholar will be invaluable to Georgetown Law and to the legal academy. Her leadership of the O'Neill Institute will make America and the world healthier, safer, and more equitable," said Lawrence Gostin, Georgetown University Distinguished University Professor and O'Neill Institute faculty director. "Working in close partnership with Michele, I see a future of boundless potential at the O'Neill Institute as we strive to live up to our mandate of using world class scholarship to make a difference in the United States and the world."
Goodwin is credited with helping to establish and shape the health law field. She directed the first American Bar Association accredited health law program in the nation and established the first law center focused on race and bioethics. Her constitutional law scholarship addresses legal questions related to freedom of speech, religious exercise, equal protection, due process, race and sex discrimination, reproductive rights, slavery, and LGBTQ+ equality.
Goodwin previously served as a Chancellor's Professor at the University of California, Irvine (UCI) and founding director of the UCI Law Center for Biotechnology and Global Health Policy. She was the recipient of the 2020-21 Distinguished Senior Faculty Award for Research, the highest honor bestowed by the University of California. Goodwin currently holds several leadership roles, including serving as president of the Law and Society Association, as a member of the executive committee and national board of the American Constitution Society, and as an elected member of the American Law Institute and the Hastings Center.
"It is an honor to join the Georgetown community and work in partnership with Larry and our remarkable staff at the O'Neill Institute for National and Global Health Law," said Michele Bratcher Goodwin, O'Neill Professor of Constitutional Law and Global Health Policy and O'Neill Institute co-faculty director. "I have always admired Larry for his exemplary leadership and steadfast commitment to improving global health conditions for all people. It takes courage and compassion to lead from that position and that's what my colleagues do every day — around the world — making a difference in the lives of others."
In fall 2022, Goodwin joined Georgetown Law as a visiting professor and engaged with the O'Neill Institute for various discussions on reproductive rights and racial justice. This fall, she joined Georgetown Law's faculty full-time as Linda D. & Timothy J. O'Neill Professor of Constitutional Law and Global Health Policy.
Alongside Lawrence Gostin, Goodwin will oversee the O'Neill Institute's seven initiatives and over 100 experts to advance the institute's mission of addressing the most pressing health issues facing the world. Goodwin's pioneering research and leadership addressing the human and healthcare rights of women and girls nationally and abroad will further enhance the O'Neill Institute's reach and impact as it expands its programming and educational opportunities for students and leaders across law and medicine. As co-faculty director, she will also play a critical role in helping to train and develop the next generation of national and global health leaders, advocates, and policy makers through Georgetown Law's health law academic programs that are run in conjunction with the O'Neill Institute.
"As the work and the impact of the O'Neill Institute grows, it has become a sought-after home for public health practitioners and health law experts looking to engage in cutting edge research and innovative projects that lead to more effective health policies and laws," said Katie Gottschalk, executive director of the O'Neill Institute. "Michele is one of the most cited professors in the health law field and we are honored to be able to draw on her experience and knowledge to guide our vision for the future."
###