Georgetown University Law Center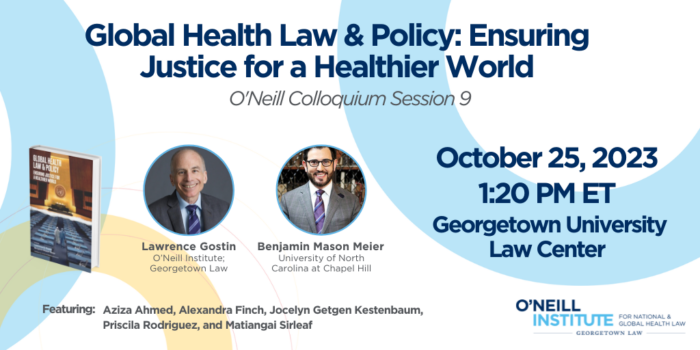 The O'Neill Institute Colloquium is an annual discussion series that addresses the most important health law issues of the day.
Please join the O'Neill Institute on Wednesday, October 25, from 1:20-3:20 p.m. ET for a conversation with Lawrence Gostin and Benjamin Mason Meier on their new seminal book, "Global Health Law & Policy: Ensuring Justice for a Globalizing World." 
The first 90 minutes of the session will include presentations from the authors, which will be followed by a 30-minute Q&A.
Speakers:
Lawrence Gostin

, Faculty Director, O'Neill Institute; University Professor and Founding Linda D. & Timothy J. O'Neill Professor of Global Health Law, Georgetown Law

Benjamin Mason Meier

, Professor of Global Health Policy, University of North Carolina at Chapel Hill
Featuring: