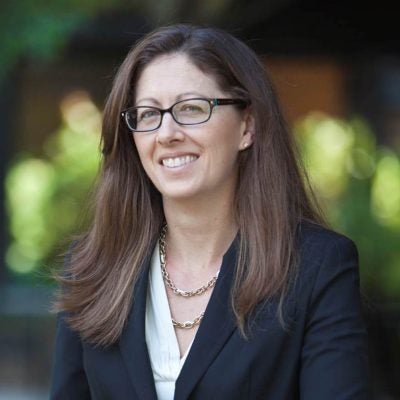 Tell us about your education prior to the LL.M. program. 
I attended GULC from 2000-2003 for my J.D., and the University of Notre Dame for my undergraduate degree. I also took some doctoral courses in public health while living in Louisville, through the University of Louisville School of Public Health and Information Sciences.
How did you hear about O'Neill? 
I was aware of O'Neill from my connection to Georgetown and my interest and work in the field of health law, particularly public health. When my family relocated to the D.C./Baltimore area in 2010, I was thrilled to be able to return to Georgetown to build my knowledge of health law, particularly global health law, and to learn from masters such as Professor Gostin.
Where has your career taken you so far? 
I was in private practice as a litigator early in my career, but following my time at O'Neill I have spent the bulk of my time in government service and academia. I ran the Office of Health Policy for the Commonwealth of Kentucky under former Governor Steve Beshear from 2013-2015, during implementation of the Affordable Care Act, and it was a truly transformative experience to be part of such an incredible effort to expand health coverage to the most vulnerable among us. Since then I have held tenure-track law positions in California and Kentucky, and most recently I have engaged in independent health policy consulting. It's been a wonderful variety of experiences, and O'Neill prepared me so well for the diverse set of issues that impact the health of populations.
What was your favorite class and why? 
Oh my, it's truly so difficult to pick a single course. To be honest, I loved them all, and I really mean that. If I had to choose one, I would probably say the foundational Global Health Law course, which at that time was taught by Allyn Taylor, whose real-world experiences working in the field gave incredible depth to the course. For me, the course was an amazing eye-opener into the field of international law, an area which was largely new to me, and it was a perfect point from which to layer on additional courses that went into additional depth on discrete topics such as trade, human rights, and others.
Every class at O'Neill draws students from all parts of the globe. What was that like for you? 
It was fantastic. As Americans we can sometimes be a bit insular in our thinking, and in my classes we had students from so many different countries, from Australia to China to Ukraine, and the perspective they brought was invaluable, both in discussion and when professors had us engage in simulations.
What is your dream job? 
Wow, another tough question. I think the answer to a question like that is often situational — as in, my dream job at one point in my career might be different than my dream job at another point in my life. I'm lucky in that most of the time I've been fortunate enough to really enjoy the work I'm doing, whether it was working to expand health coverage in Kentucky, helping to educate the next generation of lawyers, or now helping clients improve their work to promote better health policies in action. What I love about having my background is that I feel very well equipped to take on a number of challenges, which gives me the flexibility to tailor my career to what fits my goals at a given time in my life.
Who is your hero in this field? 
Professor Gostin, no doubt. I've been fortunate enough to be his student, a fellow at O'Neill, and to have kept in contact with him since the program, and I can say without reservation that I have never known anyone more genuinely dedicated to creating — in his words — global health justice. I have been deeply impacted by his leadership over the years and feel so lucky to be part of the O'Neill family.
Issues
Related Initiatives