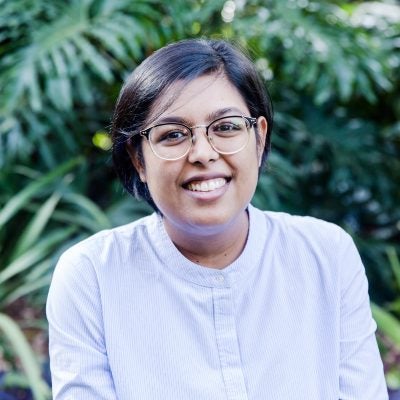 Tell us about your education prior to the LL.M. program. 
I did my undergraduate degree at the University of Cape Town, where I completed a Bachelor's of Laws. After that I did two years of training at Bowmans, a corporate law firm, which is part of South Africa's process to become an attorney. 

At the corporate practice I did regulatory and contract law. I built a solid foundation before moving into the health specialty. I had already been planning to go to O'Neill for quite a long time because I knew that I wanted to focus on health law. I was particularly interested in occupational health and safety, which is important in South Africa because of the mining industry. Our first certified class action lawsuit came about because miners were exposed to asbestos on the job and became ill. That litigation was beginning during my law degree, and it shifted the focus of health law in South Africa from strictly HIV to occupational health.
How did you hear about O'Neill?
My parents work in public health, and my mom was on the mailing list for O'Neill and sent me a brochure while I was still doing my undergrad. A couple of years later we had a family friend visit from Australia; she's a lawyer, and she really opened my eyes to the fact that lawyers do public health law. She said that most public health lawyers went to O'Neill, and I knew it was really the best place for me! 
What is special about O'Neill?
There were over 50 classes I could take that could fit my degree. In my undergraduate university the only class I could take in health law had to do with HIV. It was insane to see all the options at O'Neill, and it was even hard to choose!

I was also a research assistant at O'Neill during my LL.M., working with the Campaign for Tobacco Free Kids. My boss was also my mentor under the O'Neill mentorship programme, which was unusual, and it exposed me to this whole new field of Non-Communicable Diseases (NCDs). I was able to have practical experience rather than just sit in classes. 

Something that really stuck out to me was that I would have classes on a whole myriad of topics, and the lecturers were actively engaged in the topics they were teaching. You don't get to see people like that! My first class ever at O'Neill had Anthony Fauci on the panel, as well as an expert that had been involved in both the Ebola and Yellow Fever epidemics! 
Where has your career taken you so far? 
I'm currently a senior researcher at the SAMRC Centre for Health Economics and Decision Science – PRICELESS SA at the Wits School of Public Health . I currently work at a school of public health. The concept that lawyers should be in the room during public health conversations is still new, and I often have to explain why law is relevant to public health. 

My work is about how law can itself improve public health. I used to work exclusively on NCDs doing public health policy research and legal scholarship. I also do technical support for the South African department of health. Now my work is 50-50 NCDs and COVID. With COVID my focus is around equity, especially with the vaccine, but I also did work around how infecting someone intentionally with COVID-19 is a crime in South Africa as well as the impact of COVID-19 on food systems.
How do you make an impact with your current work? 
I suppose we see public health and research impacting people in three ways at the organization I work at. First, research creates evidence and uncovers truths about disease. Second is that we have a heavy advocacy focus on positive change in society. The third thing that we do is provide technical support to the government when they want to introduce regulations. For example, right now I'm on a working group that is working on changing how we label nutrition facts on food.
What was your favorite class?
Public Health Law. It was extremely interactive and creative, and I really enjoyed that.
What was your favorite part about being part of a global class of students?
It's a very small group, and we were split up a lot and mixed in with students from the J.D. It's always amazing to check in with them. We all went to Larry's house for a hike and brunch; it was very different to meet your professor at their house and get to know them in that way.
Why did you wish prospective students knew about the LL.M. program here?
A lot of people thought that we would do the LL.M. and magically fall into public health law, and that didn't happen for me. It takes a long time to move into this field, and an LL.M. won't magically fix your problems. O'Neill lends a lot of credibility, but the LL.M. doesn't give you everything. Seizing all of the opportunities you have at Georgetown and in DC is super important, because credentials themselves aren't enough.
Who is your hero in the field?
My hero would probably be Roger Magnusson or Patricia Lambert. Magnusson created this field of NCDs and law. Lambert, and working with her, is what really switched me into working with NCDs. She's probably saved the most lives in our field, and she's a lawyer!
Related Initiatives