About
Launched in February 2023, the Health Care Litigation Tracker is a free digital resource that tracks and analyzes health care litigation in the United States. The tracker contains current health policy litigation cases, with an emphasis on health care access, coverage, affordability, transparency, and equity.
Our Work
Courts have a significant impact on shaping health care policy in the United States, but it is challenging to follow the trends and patterns of legal disputes as they wind through our nation's federal courts. The Health Care Litigation Tracker demystifies the process and provides a valuable resource for anyone interested in following and understanding health care policy and the law. The website includes major lawsuits challenging federal health care laws, such as the Affordable Care Act and the No Surprises Act; policies aimed at reducing health care costs; and regulatory authority and decisions affecting major federal health care programs.
The Health Care Litigation Tracker is free, user-friendly, and publicly available — providing an important resource for policymakers, journalists, legal professionals, and the general public to monitor ongoing health care litigation in real-time and better understand its impact on health care policy.
Featured Content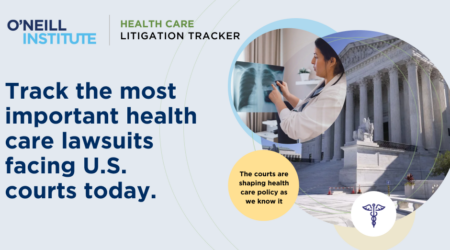 The Latest
Opinion & Analysis
May 16, 2023
In The News
February 28, 2023
Opinion & Analysis
February 28, 2023